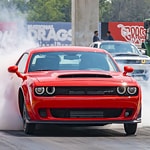 The minivan and crossover market isn't for every driver. For those consumers that like an aggressive vehicle with plenty of power under the hood, the Dodge Challenger is the automobile to think about. You can choose from a more classic exterior style, or there is a sporty exterior with the SRT badge that includes a satin black painted roof and wide body design.
The Dodge Challenger is a nod to the all-American muscle cars of the past. It's made with precision and attention to detail. The exterior has a number of different options and upgrades that you can choose if you're really looking to show off on the road. The updated Hellcat badge will turn heads for miles.
The standard tire inclusion is a set of 18-inch, satin aluminum wheels. You can also upgrade to the 20-inch Brass Monkey versions. Bumblebee stripes and blacktop stripes will make your Challenger more unique.